British newspapers ban use of 'primitive' and 'stone age'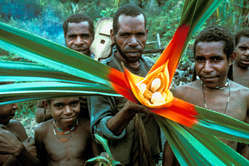 Yali men, Papua
© William Milliken/Survival
British newspapers The Guardian and The Observer have banned the use of 'primitive' and 'Stone Age' to describe tribal peoples following Survival's 'Stamp it Out' campaign.

The Guardian's and Observer's 'Style Guide' advises against the use of both terms. For 'primitive' it says, 'Do not use to describe tribal people. . . see stone age.' For 'stone age' it says, 'As recently as 2006, we used the phrase "stone age tribe" in a headline to describe the inhabitants of the Andaman Islands. The charity Survival says: " 'Stone age' and 'primitive' have been used to describe tribal people since the colonial era, reinforcing the idea that they have not changed over time and that they are backward. This idea is both incorrect and very dangerous: incorrect because all societies adapt and change, and dangerous because it is often used to justify the persecution or forced 'development' of tribal people".

The decision by The Guardian and The Observer is a major triumph for Survival's 'Stamp it Out' campaign. Supporters already include the BBC's World Affairs correspondent John Simpson, the Sunday Times number one best-selling author Tim Butcher, and best-selling anthropologist Daniel Everett.

Ex-BBC newsreader Michael Buerk recently caused a furore after labelling Papuan tribes 'primitive' and claiming 'whenever they come across a stranger they kill them.' Leading Papuan human rights organisation Elsham responded by accusing Buerk of 'regurgitating racist stereotypes' and reinforcing 'the idea that to be oppressed and colonized, under an Indonesian occupation, is the right thing for Papuans.'

British newspaper The Independent today published an article by Survival's director in response to Buerk's remark.