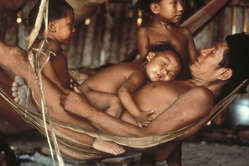 Yanomami family gathered around a hammock made from banana tree fibers. © Victor Englebert/Survival
Two Yanomami men have contracted the swine flu virus, and it is suspected that a ten year old boy from the same community has also been infected.
The two men were confirmed to have swine flu at the end of December, but the news has only just emerged.
Brazil's National Health Foundation, FUNASA, has taken the Yanomami boy by helicopter to the town of Santa Isabel do Rio Negro for treatment. Tests are being carried out to confirm whether the boy has swine flu, and FUNASA says the results will be available soon.
The Yanomami are the largest relatively isolated tribe in the Amazon rainforest, with a population of about 32,000. They live in the remote tropical forest on the Venezuela-Brazil border. Due to their isolation they have very little resistance to introduced diseases such as flu.
Past epidemics among the Yanomami have shown how quickly flu can spread and how it can rapidly weaken an already weak immune system and lead to dangerous and potentially fatal secondary diseases such as pneumonia.
Last November, seven Yanomami from the Venezuelan side of the border died in an outbreak of swine flu within the space of two weeks.
It is feared that the current cases of swine flu could indicate the start of a similar outbreak.
In October 2009, Survival published a report highlighting the special threat that swine flu presents to indigenous people around the world.