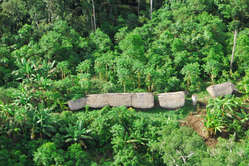 One of the photos in Survival's new report. These houses were built by uncontacted Indians who have been fleeing from Peru to Brazil.
© G. Miranda/

FUNAI

/Survival
A report published today by Survival International confirms that some of the world's last uncontacted Indians have been fleeing from Peru to Brazil in order to escape illegal logging.

The report details evidence found by employees of the Brazilian government's Indian Affairs Department (FUNAI) since 2004. The evidence consists of numerous sightings of the Indians and includes photos of arrows belonging to them and houses built by them. It also includes mahogany boards which have floated past the FUNAI team's protection post on the remote Envira River, coming downriver from Peru where uncontacted Indians are known to live.

'(There has been a) forced migration of autonomous groups in Peru, caused by mahogany exploration in the headwaters of the Jurua, Purus and Envira (rivers in Peru),' says Jose Carlos Meirelles, head of the FUNAI team, in the report. 'The collection of arrows (belonging to the Indians) on my table is piling up. . . The situation will only be resolved when the Indians are left alone on the other side of the border.'

Download Survival's new report (.pdf format)

Loggers have illegally invaded the uncontacted Indians' land in Peru in search of some of the last commercially-viable mahogany trees in the world. They are often armed and expose the Indians to diseases to which they have no immunity. After loggers forced first contact with members of the Murunahua in 1996, an estimated half of the tribe were wiped out.

Survival's report urges Peru's government 'to protect uncontacted Indians' land by removing all loggers and prohibiting the entry of any other outsiders and any form of natural resource extraction in areas where they live. . . At present, uncontacted Indians are at huge risk and face extinction.'

The publication of the report comes as FUNAI prepares to construct another protection post in a similar part of the rainforest. FUNAI has also recently finished demarcating a new reserve for the tribes, bringing to three the total number of areas set aside for uncontacted Indians in this region.

Mr Meirelles was in the plane last year when photos of one of Brazil's uncontacted tribes were taken. The photos, released by Survival, made headlines around the world.
For more information please contact Miriam Ross at Survival International on (44) (0)7504 543 367 or email [email protected]