Write a letter for the Jarawa
1. Write your letter

, then 2. Complete it and 3. Mail it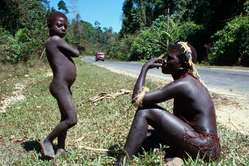 A Jarawa woman and boy by the side of the Andaman Trunk Road © Salomé
Although it is illegal for outsiders to enter the Jarawa reserve, poachers are hunting the animals they depend on and bringing disease, violence and exploitation.
Adding to the tribe's problems, the islands' main highway (known as the Andaman Trunk Road) cuts through their forest, bringing poachers, settlers and tourists. In 2002, India's supreme court ordered that the road should be closed, but the local authorities have refused to comply.
In 1999 and 2006, the Jarawa suffered outbreaks of measles – a disease that has wiped out many tribes worldwide following contact with outsiders.
The government's 'Jarawa Policy' states that the tribe should have 'maximum autonomy with minimum interference' in their lives. Survival is urging the authorities to adhere to these principles.
How you can help
Please write to the Indian government using this text or your own words: