Santander Bank admits dam funding to continue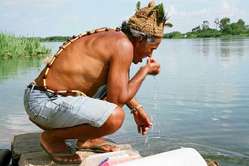 The Santo Antonio dam threatens to devastate the forest home of numerous tribal peoples
© João Zinclar
Europe's largest bank, Santander, has admitted that its controversial financing of the notorious Santo Antonio dam in the Brazilian Amazon is set to continue, despite earlier saying that its finance had been suspended.
In March this year, Santander Bank wrote to members of the public that it had put its financing of the dam 'on hold', following social and environmental concerns.
Santander has since admitted that it has not, after all, suspended its financing of the dam and is determined to continue supporting the controversial project.
In May 2011, Europe's largest bank, Santander, reported it would suspend its finance of the controversial Santo Antonio dam on the Madeira river in the Brazilian Amazon – but in July, Santander admitted that its financing would continue.
© P Clayton/ geograph.org.uk
The Santo Antonio dam, part of the Madeira River dams project, threatens to harm vast areas of forest, upon which numerous tribal peoples depend for their survival. Construction roads will encourage migration, colonization and logging.
The uncontacted Indians living in the area are particularly vulnerable; they have little resistance to outside diseases and any contact with outsiders threatens to drive them to extinction.
The number of malaria cases in the area has rocketed since the dam construction began; malaria could be fatal for the uncontacted Indians.
The region's Public Ministry is investigating 110 cases of human rights violations of the Indians in the area.
Earlier this year, indigenous leaders from the Amazon traveled to London to protest against Santo Antonio and other Amazon dams threatening indigenous peoples.
Almir Surui, an indigenous leader of the Surui tribe campaigning against the dam, said 'I wonder how the Brazilian government feels; how can they promote projects that could force a people to extinction?'.
Many organizations worldwide, including Survival International, have called for the Madeira dams project to be cancelled.
Brazil's President Dilma Rousseff visited the dam site last week to witness the start of the diversion of the Madeira River, a key stage in the dam's construction.
It is thought that the dam could go on-stream this year.